Humans of IT: Logan Silva
Logan Silva (12) earned a scholarship and automatic acceptance into University of Wisconsin-Madison for the military.
"My aunt and uncle were enlisted in the US Marine Corps, so they kind of showed me the ropes on how to be an officer, good qualifications, how to get the scholarship and what everyday life was like in the military," Silva said.
In addition to his involvement in the Kenosha Military Academy, Silva has wrestled since his sophomore year.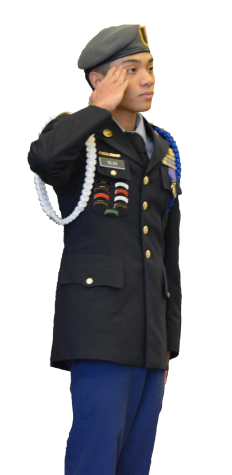 "I went to a lot of summer practices, off season clubs, went against college wrestlers, and learned the wrestling culture to improve my technique and move up," he said. Silva was determined to perfect his skill because it was very personal for him to demonstrate his best effort in any sport. "Wrestling was more for [my benefit] than anybody else, because when you win, you feel good about yourself because you put that work in," Silva said.
Silva's goals in life were to serve in the military for twenty years and to serve as many tours as possible.
"I am going to be in charge of men and I want to make sure they can respect me, and I want to be a good leader overall," he said. Sergeant Tia Nagle, Silva's military recruiter, met him his sophomore year where they started talking about the military scholarship. "Logan is very driven and selfless. He goes out of his way to help motivate other cadets at school and the other applications at the Marine Corps office. He already has the other traits to be a great Marine officer someday and I can't wait to see his success at UW-Madison," Nagle said.
Leave a Comment
Donate to The Blaze Yearbook
Your donation will support the student journalists of Indian Trail High School & Academy. Your contribution will allow us to purchase equipment, attend journalism conferences and cover printing costs.