2022 Yearbook staff breaks awards records
It's a been a record breaking year for the 2022 yearbook staff. They have won five national awards.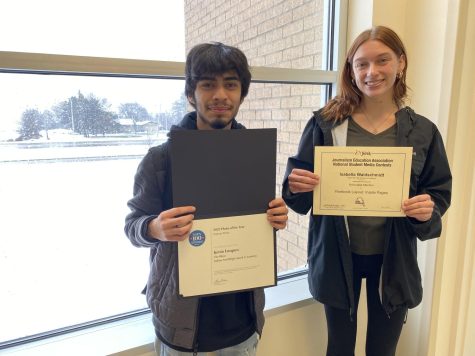 National Scholastic Press Association – Two photo winners – only 10 photos are chosen each year as finalists in each category
Kevin Vazquez (12) – Feature Photo Honorable Mention
Yasmine Khoury (2022 graduate) – Environmental Portrait 4th place
Here is the link to the award winning photos: https://studentpress.org/nspa/2022-photo-of-the-year/
Journalism Education Association National Student Media Contests – This contest was held in November while the yearbook students were in St. Louis at the National High School Journalism Convention.
Izzy Waldschmidt (12) – Yearbook Layout Inside Page Honorable Mention – only six awards were given in this category
Quill & Scroll International Honorary Society for High School Journalists 2022 Yearbook Excellence Contest
Tatyana Donald (2022 graduate) – Class A Headline Writing & Design 2nd place
Kevin Vazquez (12) – Feature Photo 2nd place