Humans of IT: Megan Marifern
For Megan Marifern (12), ice skating was not just an after school activity; it was her passion that she pursued since she was three years old. As she prepared to graduate and continue into life after high school, her love for skating did not diminish. If anything, it only continued to flourish.
"I'm almost positive [I started] because of my brother playing hockey," Marifern said. "I'm sure I got a little bit jealous and looked up to him when I was younger, so I wanted to be on the ice too, just not as a hockey player."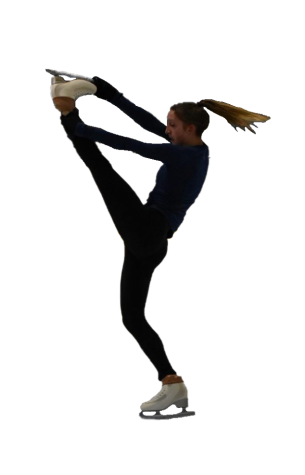 She was dedicated to the sport, which was evident by her daily practices every morning that were held anywhere from 5 a.m. to 7 a.m. She also occasionally attended after school practices.
"It gets extremely challenging when I've been up late studying and my average amount of sleep I get during the school year is about four to six hours," Marifern said. "I think skating in the morning is like a cup of coffee. It just wakes me up and energizes me for the day."
Tatum Winter was Marifern's coach, and she began working with her when Marifern was nine. Winter was able to see her student's growth, not only in her skating techniques, but also in her character.
"I started working with Megan when she was still a young girl, and I've seen her remarkable growth in both technical skill and maturity," Winter said. "Over the years I have been very proud to call her my student. She is an incredible athlete with so many accomplishments, and an incredible friend to those around her."
Marifern hoped to continue skating while going into college and compete with the United States Figure Skating Association. Winter supported her unconditionally and was proud of the fact that she wanted to pursue her love of skating beyond her childhood years.
"It makes me so happy and proud that she enjoys skating so much that she wishes to continue setting goals and working towards them," Winter said. "As a coach, there is not much that can make me feel as honored as passing down the passion of something that I love. I am happy to have had a part in keeping the enjoyment alive."
Outside of the rink, Marifern had a support system to build her up and keep her going in her genuine love for skating. Between her coaches and her family, she never had to worry about being alone on the ice. But at the end of the day, she skated for herself.
"There is one girl I know that motivates me the most and that is the little girl doing a spiral, holding the hands of her first coach that is pictured on the blue square hanging on the wall right outside of the rink entrance," Marifern said. "That little girl is me, and I'd hate to let her down."
Leave a Comment
Donate to The Blaze Yearbook
Your donation will support the student journalists of Indian Trail High School & Academy. Your contribution will allow us to purchase equipment, attend journalism conferences and cover printing costs.